PJM
PJM is an internationally renowned specialist
in the field of railway systems.
Fields of excellence
PJM is an internationally renowned specialist in the field of railway systems. Based in Austria, PJM is technology leader for a wide range of forward-looking solutions and railway automation.
PJM's three main business fields are:
Monitoring systems for the digitisation of rail freight transport. The patented WaggonTracker system provides comprehensive information on the goods transport and automatises demanding processes (e.g. loading and brake tests)
Engineering: PJM has pioneered the application of topology optimisation for freight cars a tool originally used in space technology. PJM's highest premise is to both achieve minimal weight and maximum safety. Furthermore, PJM is a worldwide leading expert for multi-body simulation and FE-calculation.
Test facility: PJM is accredited as ISO/IEC 17025 testing laboratory for railway vehicles.
Due to this unique portfolio of products and services, PJM offers comprehensive solutions including planning, simulation, calculation, testing and data analysis.
PJM develops and manufactures its high-tech measurement devices in Graz. Almost 100 % of the components are provided by European suppliers. Highest precision and reliability are the features of the measurement devices. Reliable measurement results and its significant analyses are the basis for an increase in efficiency and the optimisation railway systems and its components.
Within only 15 years, PJM has developed from a small spin-off of the Technical University of Graz to a medium-sized company with more than 60 employees and a major player in railway business. As a result of a very solid economic situation, PJM is a reliable partner for the realisation of national and international projects.
The business's two key issues are covered by two companies: While PJ Messtechnik GmbH is the test facility and specialist for measurement devices and engineering projects, PJ Monitoring GmbH is focused on the WaggonTracker monitoring-system. The clear division was implemented in December 2017.
All the steps required for the approval of a vehicle
In cooperation with Railway Competence und Certification GmbH (RCC), we are able to provide comprehensive solutions including approval procedures. RCC is specialised in conformity assessments, product certifications and independent safety assessments. The accreditations include:
Notified Body NB 2697
Assessment Body AT/35/0116/0400
Furthermore, RCC is the top address for the realisation and approval of innovative technologies, namely the Clean Rail Technology (emission-free power units for railway vehicles) or telematics solutions for railway systems.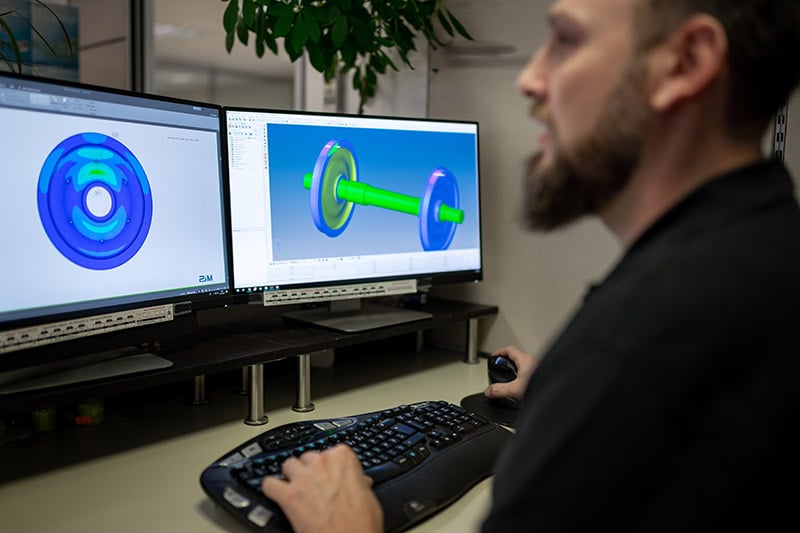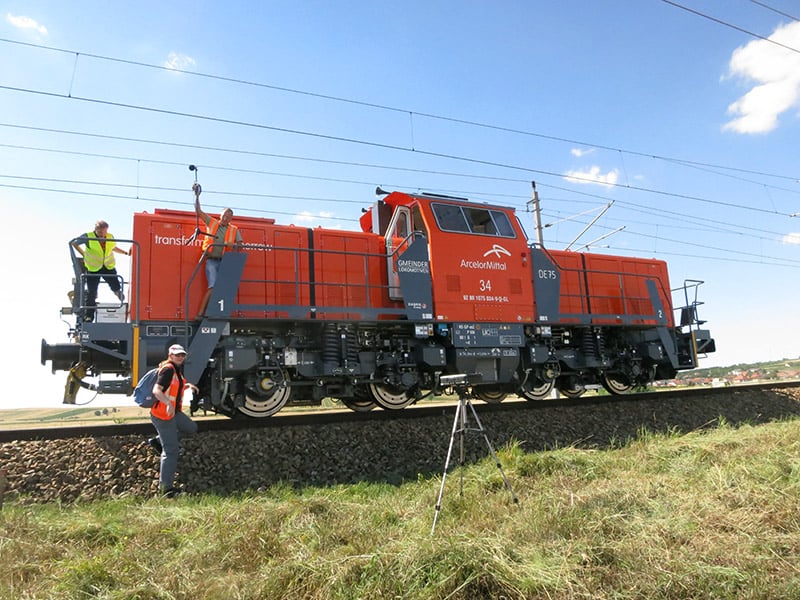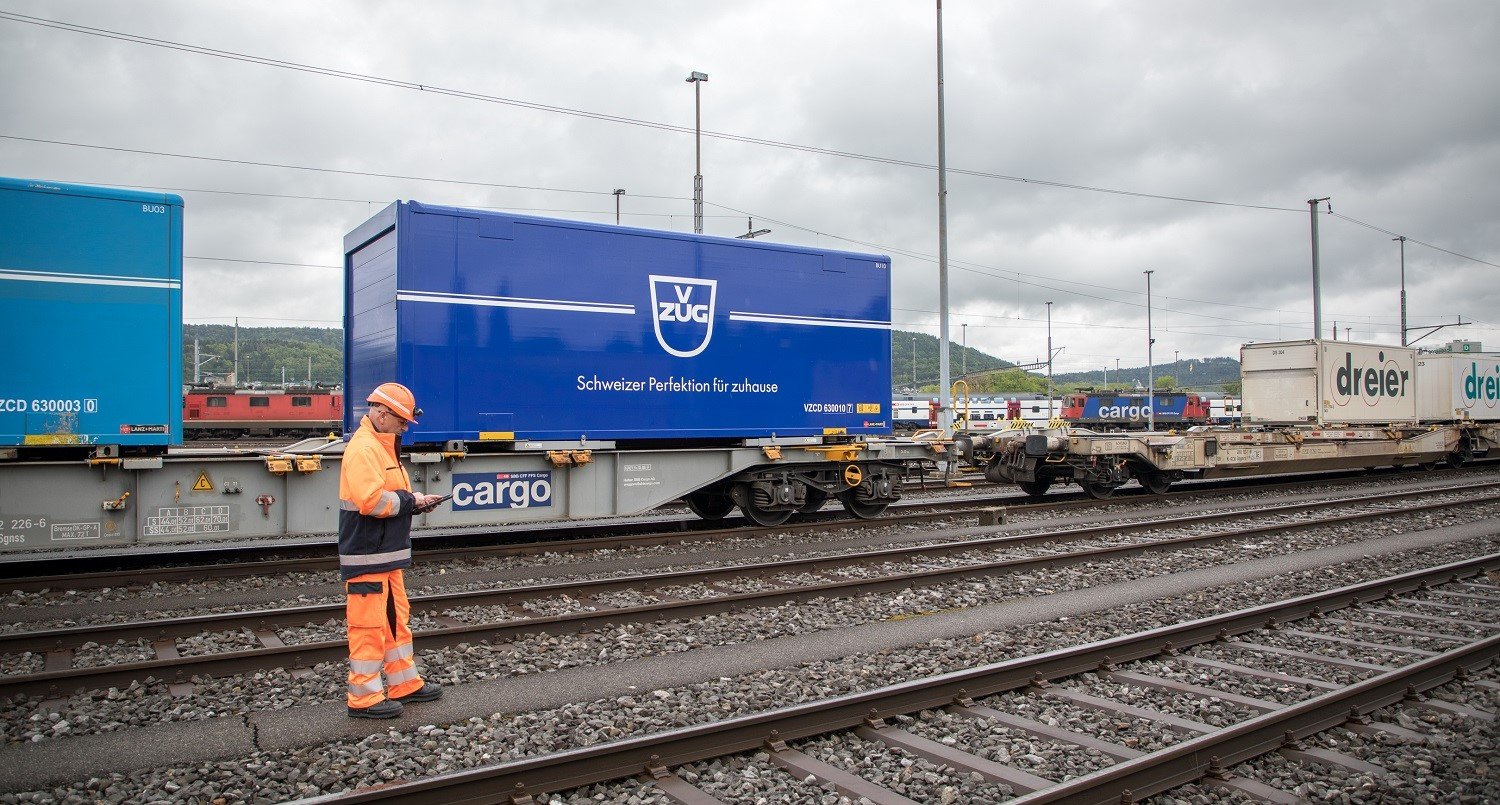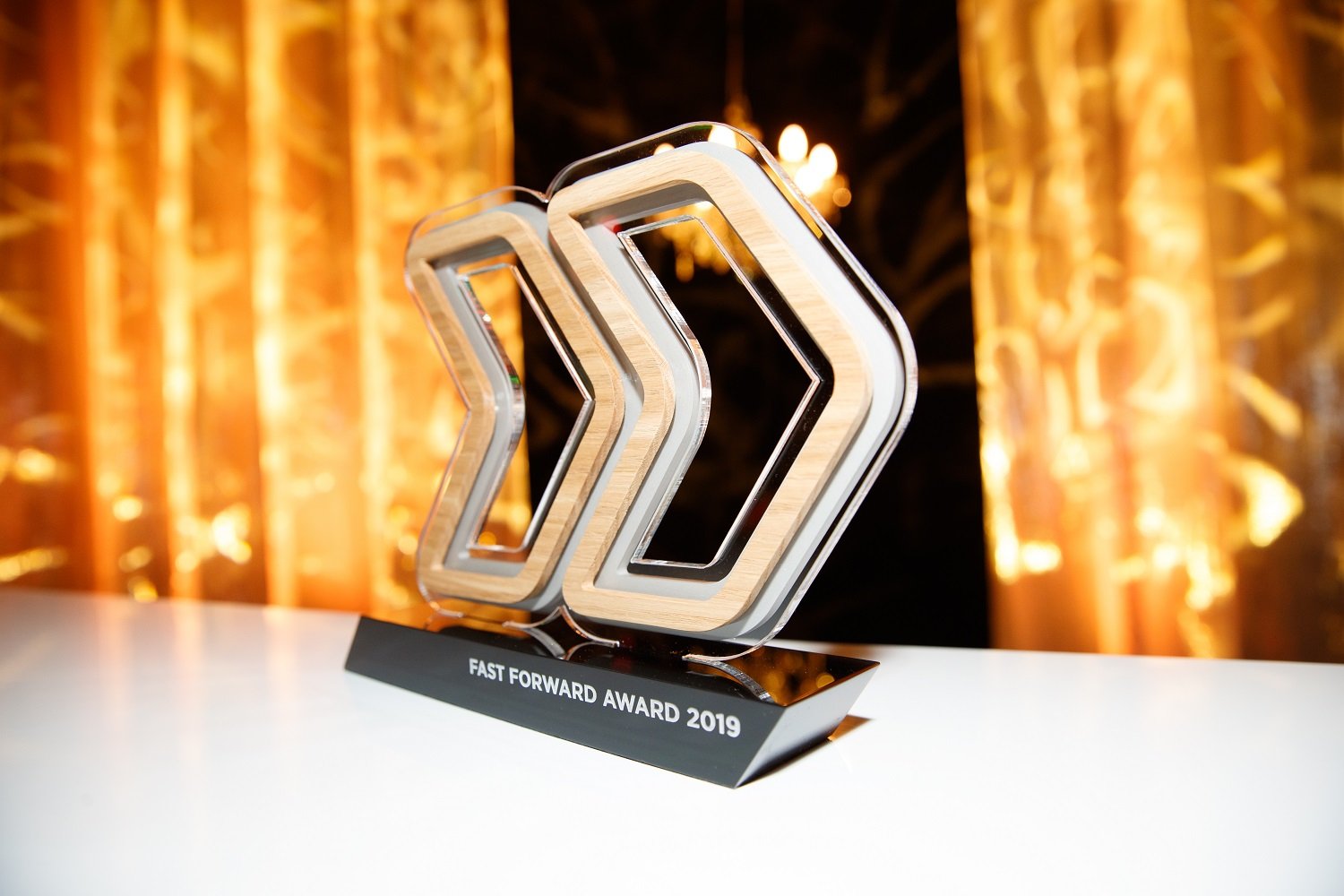 Awarded Technology
Prizewinning WaggonTracker system
"Innovations are optimisations: They solve a problem or make things better. That's what we wanted to do: To push rail freight transport into the 21st century and thus make it more attractive." The WaggonTracker system meets all these high demands. Hence, rail freight transport gains efficiency, safety and speed which are big benefits for wagon keepers and railway companies benefit. Furthmore, digital rail freight cargo creates attractive jobs.
The digital WaggonTracker plattform was awarded:
Winner Export Award 2022 (Gold in the category "Digitalisation")
RailTech Innovation Award 2022 (Audience Choice)
Styrian Export Award 2022
ERCI Innovation Award 2021 (PJ Monitoring was awarded "Best SME" among 17 states of the European Railway Cluster Initiative)
German Innovation Award Winner 2020
Austrian Mobility Award 2020 by VCÖ (category digitalisation)
Nomination Houska Award
Fast Forward Award 2019
Europe's smartest freight train:
Austrian Mobility Award 2023 by VCÖ (category digitalisation)
Finalist Austrian National Award for Engineering-Consulting 2023
Awarded measuring technology:
Austrian National Award for Engineering-Consulting 2021
An independent jury of experts (e.g. the German Design Council) evaluated the innovation and projects.
R&D
R&D yields cutting-edge technology
We rack our brains. We can't stand unsolved problems and unanswered questions. Our experts put very much effort in finding solutions and putting new technologies into practice. We have invested many millions in research and development and we'll continue to do so. R&D is of highest importance and part of our daily routine. It is the basis of our numerous innovations and international patents. Thus, our customers benefit from technological advantages which very often turn into a significant competitive advantage.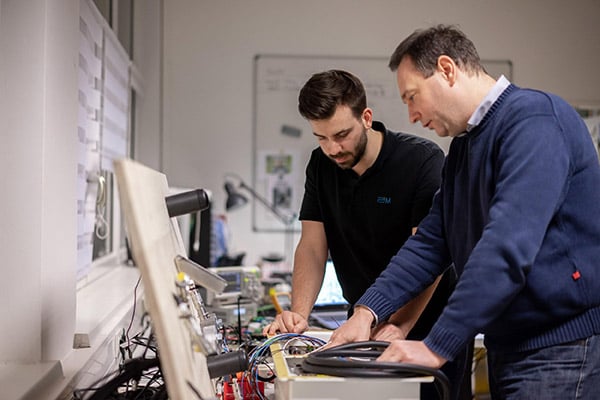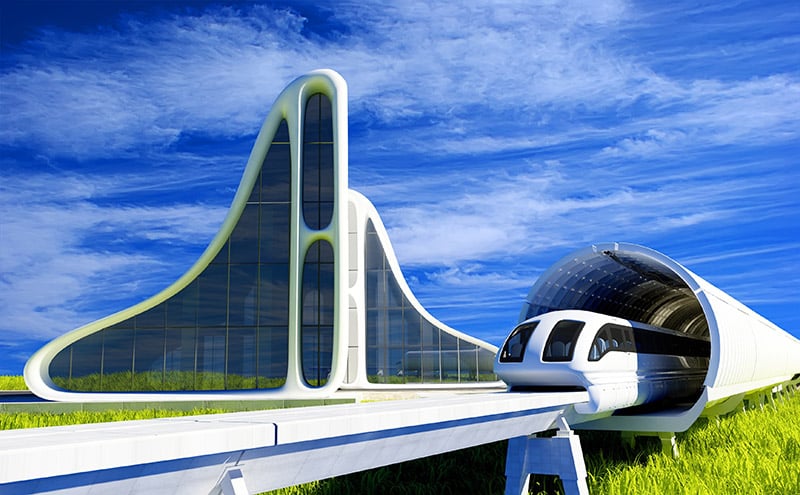 Future
Tomorrow's technology is on the track today
We are not capable of scrying or seeing the future. But we have a large knowledge on the international railway systems:
Austria is the fifth largest exporting country of rail way industry
In Germany, rail freight cargo made a turnover of more than 6 billion in 2017
In 2017, almost 120 million net tons were transported by rail in Austria and 556 net tons in Germany (figures from VDV, www.vdv.de)
Freight train transport reduces Co² emission by 80 % (figures from VDV, www.vdv.de).
The rail transport of hazardous goods is 40 x safer than road haulage
In 2050, there will be more than 19,000 trillion tonne-kilometres in rail freight transport – compared to 4,300 trillion in 2010.
That's the future: The digitalisation of rail freight cargo, such as smart monitoring systems providing important real-time information and giving an overall view of the transport fleet. Automated systems which will replace very time-consuming or hazardous tests. Intelligent load monitoring systems ensuring an optimal loading situation and load capacity. Innovative light-weight freight cars designed to carry more volume. In summary: The future belongs to intelligent rail cargo systems.
For all of these future concepts, PJM is visionary and pioneer. PJM has launched highly-demanding systems enabling companies to be fit for the future. Already today, PJM has the solutions for the trends of tomorrow.
History
From spin-off to a company operating all over the world
In 2006, PJM was founded as a spin-off of the Technical University of Graz. Only two years later, PJM received the accreditation as testing facility (approved by the Austrian Federal Ministry for Digital and Economic Affairs and by the German EBA). International customers trust in the know-how and competence of the co-founders Martin Joch and Günter Petschnig. First customers were well-known companies such as London Underground, Toronto Cable Car, Doppelmayr, KTM X-Bow, Westbahn ÖBB or SBB. Martin Joch and Günter Petschnig put a strong focus on R&D. Thus, PJM has developed cutting-edge technology and pioneering systems such the internationally patented WaggonTracker, instrumented wheel set MeRaN and many more.
Due to a large portfolio of products and services, PJM has turned into a renowned full-service provider. PJM has implemented projects in over 30 countries across the world. Today, PJM is an internationally operating company with more than 60 employees.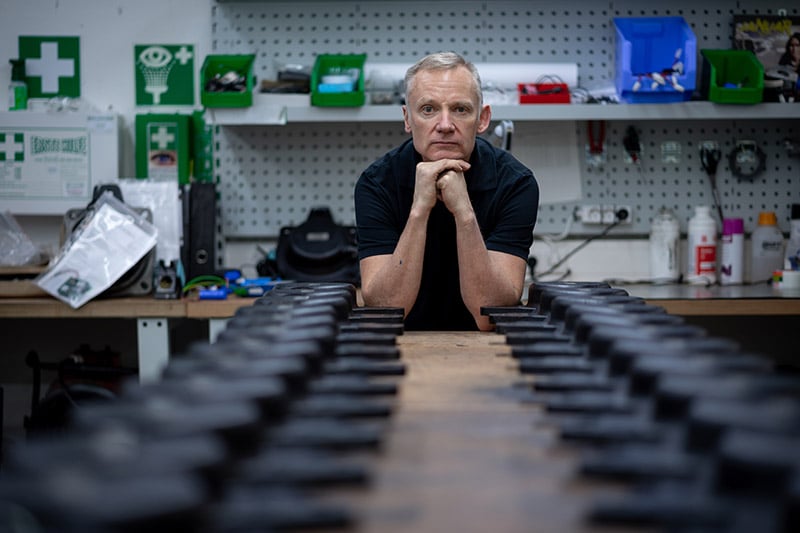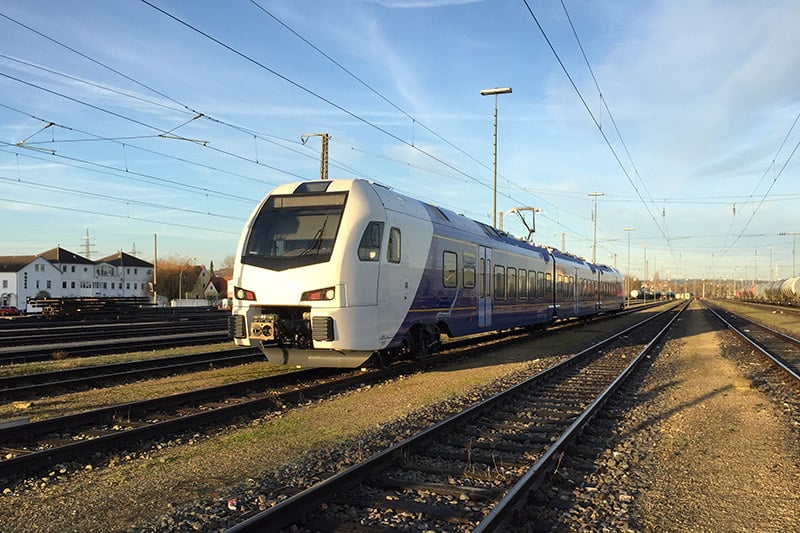 PJM at a glance
Rail way system solutions & digitalisation systems for rail freight cargo
Accredited testing facility for railway vehicles according to ISO IEC 17025
Numerous national and international certifications
Founded 2006 by Martin Joch and Günter Petschnig
R&D quota: 14 % PJ Messtechnik GmbH // 21 % PJ Monitoring GmbH
Projects implemented in more than 30 countries
Export quota: 80 %
About 60 employees (March 2018)
Martin Joch, PhD
Managing Director of PJ Messtechnik GmbH and PJ Monitoring GmbH
Focus: Measuring and test technique, engineering, corporate development, human resources and project development.
Martin Joch is the one who knows all the facts and figures of railway business and who will always find a solution for any kind of technical challenge. For 20 years, he has been dealing with the overall system of rail traffic.
Martin Joch's studies at the University of Technology in Graz included mechanical engineering and economics. During his subsequent eight-year assignment as university assistant, his key issues comprised mechanical engineering, design and metrology. Among other things, he initiated the 'working group metrology'. He is the author of numerous scientific publications and patent specifications. In 2006, Martin Joch and and Günter Petschnig founded PJM.
Günter Petschnig, MSc
Managing Director PJ Messtechnik GmbH und PJ Monitoring GmbH
Focus: Digitalisation of railway systems, monitoring systems, R&D and manufacturing
To Günter Petschnig, the terms "digitalisation" and "automation" had been familiar long before they became popular. His visionary foresight is the basis for the innovative, forward-looking technologies of PJM.
After his studies of mechanical engineering at the University of Technology of Graz, Günter Petschnig focused on metrology. At the Institute of Machine Components and Methods of Development, he played an important part in building up the field of metrology. In 2006, he set up PJM together with Martin Joch.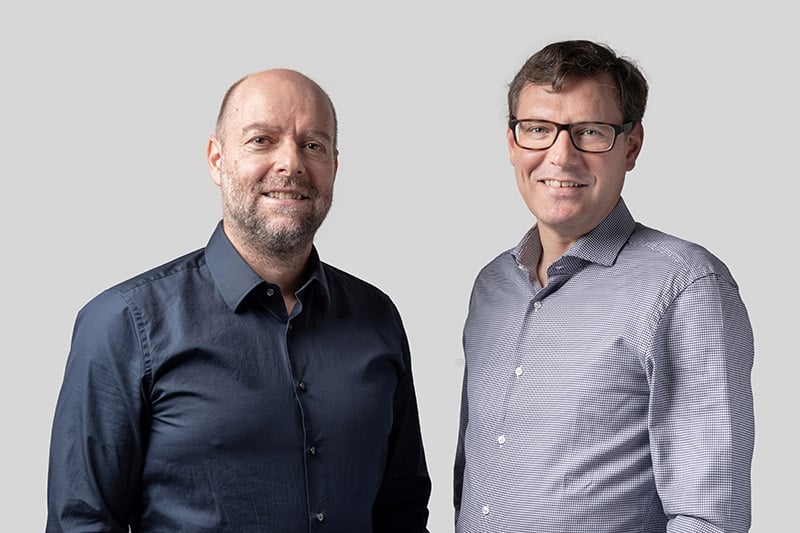 Günter Petschnig, MSc and Martin Joch, PhD,
Managing Directors PJ Messtechnik GmbH and PJ Monitoring GmbH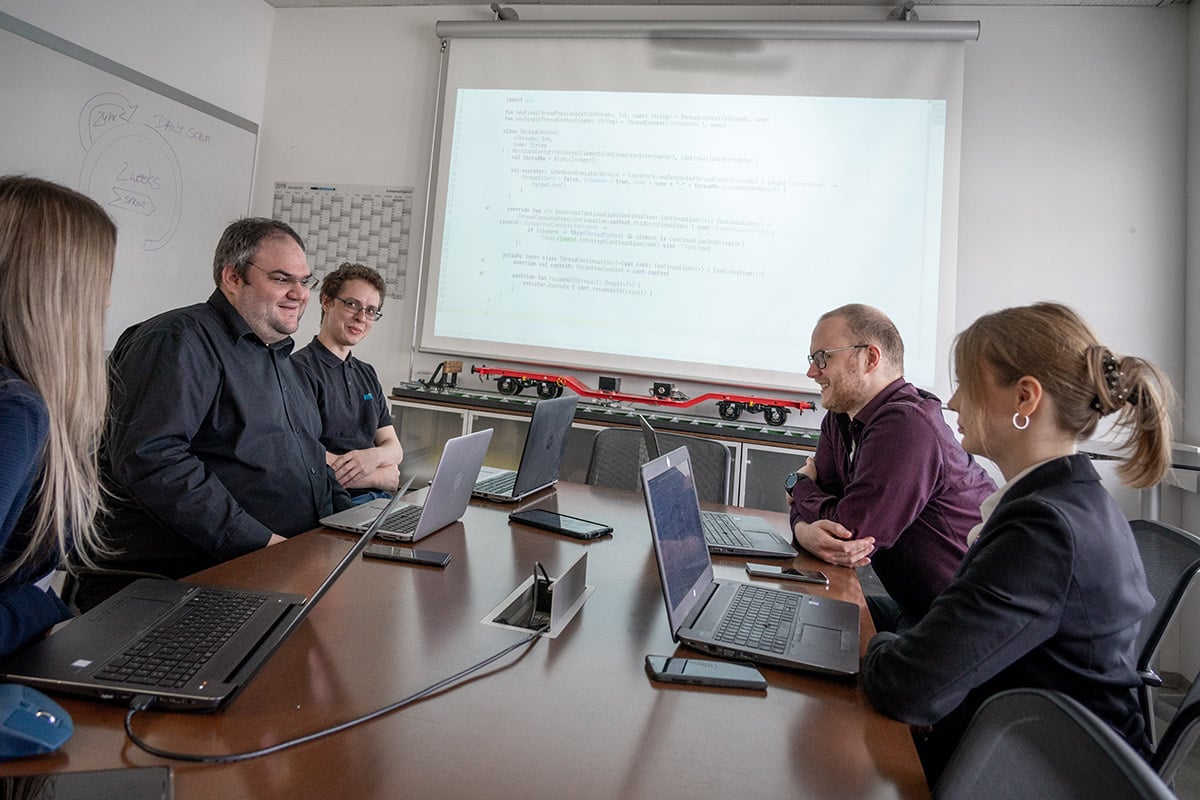 PJM Crew
All the disciplines and all countries of the world
The interdiscplinary teams work all over the world and under all kind of demanding conditions, as in the underground (in the case of underground railways), in hot regions (e.g. in Australia) and during the cold season. It's always our crew who gets projects on the track and complete them successfully.
Many years of experience, in-depth expertise as well as a hands-on approach are the assets of our team. Our customers appreciate the wealth of experience, reliability and commitment. Leading institutions such as VDV (Verband Deutscher Verkehrsunternehmen), CEN (Europäisches Komitee für Normung and ASI (Austrian Standards International) rely on our expertise and the reports of our official experts.
The PJM team is a melting pot of talents, personalities and specialists. With a large portion of humour. And an irrepressible will to make a good job. However many obstacles we have to overcome to complete a project.