Automatic Brake Test
The automated process is a highly efficient shunting operation
The project started in 8/2017 operating 20 wagons.Till the end of the test phase, the wagons will have run 1.000.000 kilometres. The brake tests will have been performed 500 times and the brakes will have been checked 10.000 times.

02/2018: The pilot train is tested in operation.

03/2019: 105 WaggonTracker monitoring systems are implemented on SBB Cargo trains. SBB Cargo are the innovation leaders in terms of olling-out this system.

04/2019: The automated process is tested in operation

Starting from 2020, the step-by-step implementation of the whole fleet will be performed.

For SBB Cargo, the automatic brake test is a crucial part of realising the "one-person operation". Further components are the early-warning- system of collisions and the automatic coupling.

The project partners are SBB Cargo, PJM, RCG and Mercitalia.

The automated process completely replaces the mechanical and visual test procedure.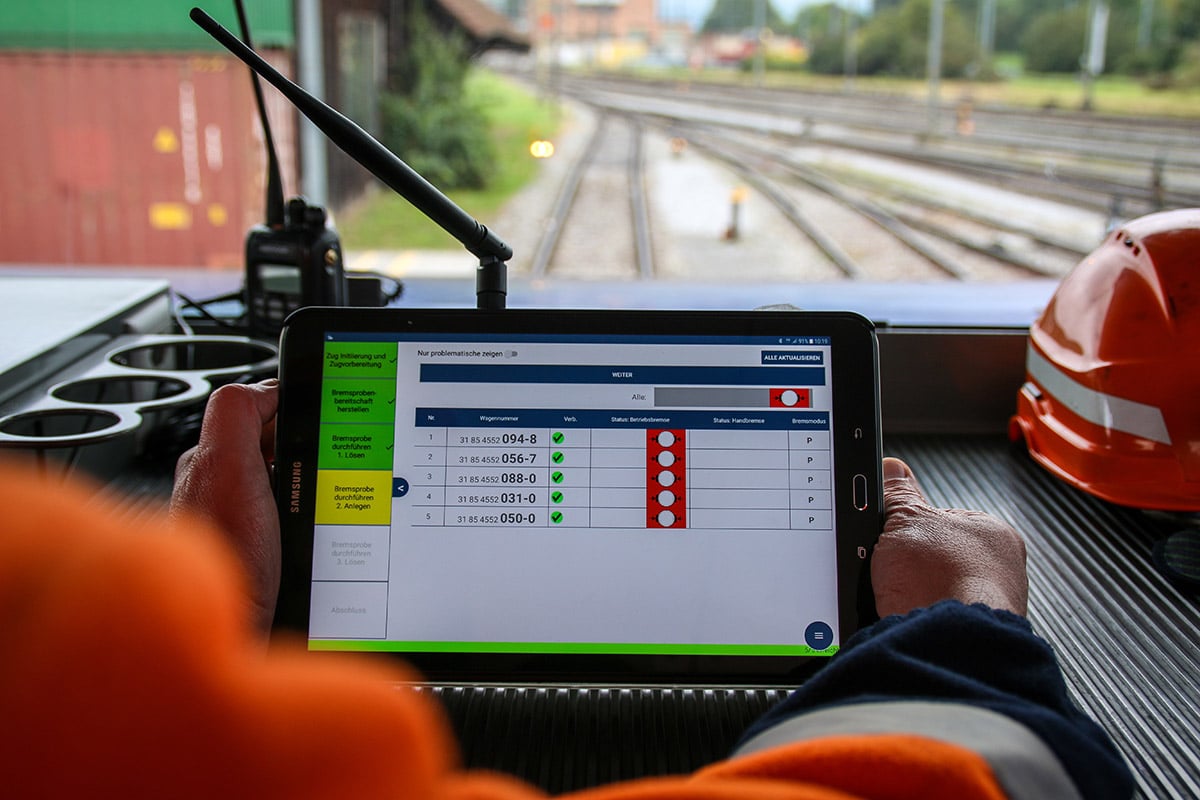 The issue
Brake tests for freight trains are personnel- and time-consuming and complex. In contrast to passenger trains, the state of the brakes has to be checked manually. An employee has to check every single axle if the brake blocks had been applied. This has to be verified whenever wagons had been separated or the train had stopped for 24 hours. Given a 500 m long freight train, this check takes up to 40 minutes.
The solution
In the digitisation of rail freight transport, the patented WaggonTracker-platform has set a new standard. In the SBB user case, the WaggonTracker was upgraded by the feature of an automatic brake test. This feature results in a time saving of up to 30 minutes. The staff benefits from avoiding the time-consuming manual check directly at the train, which would be absolutely essential, even in adverse weather conditions.
How does it work?
The WaggonTracker is a comprehensive monitoring system captivating with its autonomous power supply and automated processes. Highly precise measurement sensors acquire relevant data on the freight train. The data is processed and visualised on a mobile terminal in real-time. In this user case, the PJM team designed an additional sensor system enabling an automated check of the brakes. The results and analyses are shown on the tablet of the train conductor or the person in charge.
The automated brake test fulfils all safety-related regulations in terms of operation and vehicle.